THE MAGIC of PICTURE POSTCARDS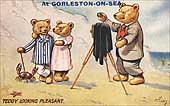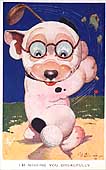 The hobby of Postcard collecting is second only to stamps in popular appeal. Almost everybody has a few old cards tucked away at home. Scenic views perhaps, or cards of social history interest. It is these which are so avidly collected today by an estimated 100,000 people in the UK.
The Golden Age
Sending and collecting postcards was a national craze in the years up to 1914, and private publishers - given licence by the Post Office on 1st September 1894 to produce postcards - provided the public with a feast of designs to choose from.
In Edwardian days, every personality imaginable - actresses, bishops, politicians, sportsmen, suffragettes, local eccentrics - adorned the picture side of cards. Photographic views of city centres, railway stations, villages and rural scenes were eagerly bought, and comic cards explored every situation and double meaning.
The First World War brought its own style of postcards: embroidered silks, sentimental song cards, and patriotic flags and bulldogs.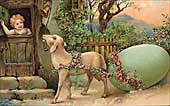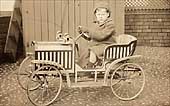 The most prolific and inventive years of postcard design were from 1902-18, this period is commonly referred to as "The Golden Age", but the last three decades have seen a huge revival in postcard publishing. Over the years, a host of accomplished artists have used postcards to display their talents, Donald McGill, the "King of the seaside postcard", and Mabel Lucie Atwell, famous for drawing cute children in humorous situations, both had cards published over a 50-year period. John Hassall, Louis Wain, Bruce Bairnsfather, and Alfred Leets - all of whom became famous in other media - are among thousands whose work adorned cards. Top European artists like Alphonse Mucha and Raphael Kirchner favoured many postcards with their art nouveau designs or glamorous ladies.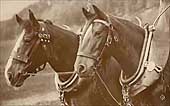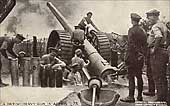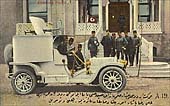 Modern cards include popular subjects such as film posters, glamour and pop, easily available on the High Street of any town. Events like the Gulf War and the miners' strike of the early 80s, as well as political and green issues, feature on postcards from a range of special publishers.
Postcard Collecting - the Hobby
Picture Postcards have been issued in virtually every country in the world and the hobby is truly international. Many art and commemorative cards are appreciated worldwide and subjects like Advertising, Shipping and Military can be sought after by collectors from a number of different countries. Postcard fairs held in London, Paris, New York or Brussels attract an international clientele.
Today both old and contemporary postcards are eagerly collected as items of nostaglia, works of art, thematic fun, examples of postal history and important social history source material. There's no age limit on postcard collecting, no class barriers and no price put-off. Because cards cost from a few pence upwards, anyone can collect what they like.